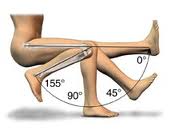 Increasing Range of Motion Through Pain Management
Update for you Bob, been doing Infrex FRM every other day after I received it on my Quads, Hamstrings, Hips, Calf/achelles, Glutes. Settings at -500rz-cr- at 20/20 5 min at + 5 min at - polarity, Power setting start at 3 bars to 7 bars.
First thing I noticed this Machine is much stronger than the ARP. The pain in my right knee has subsided quite a bit, I am a little sore but I think that comes from the stronger power of this machine. I am also using some of the Arp protocols so I will cut back some till I learn the little in and outs of the Infrex compared to the ARP. So far its far more than I would have expected.
You guys did a good job getting this thing to do what the ARP does. Once people start using this there should be Raves about it. Will keep you up updated on my range of motion results as time goes on here. Also you can count on me being a BIG advocate of your INFREX FRM.
Thanks
Mike Niespodzany